Increasingly desperate to do something to put ISIS back on their heels, Syrian artillery backed by Russian warplanes pounded a series of villages and camps along the Euphrates River in Deir Ezzor Province.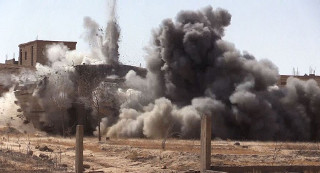 As is so often the case with such attacks, the casualties appear to be overwhelmingly civilian bystanders, with at least 50 civilians reported dead by the Syrian Observatory for Human Rights over the past 48 hours. This included 20 children.
ISIS territory was believed to be virtually gone in Syria, with reports last week of the border town of Abu Kamal falling. ISIS quickly carried out a counterattack, however, and has recovered more than half of Abu Kamal.
Since Syria had already declared victory, this sudden counterattack has them scrambling to try to quickly tamp down a resurgence. Unfortunately, the airstrikes and artillery fire don't appear to be accomplishing that, instead just hitting random people, many of them displaced by the offensive against ISIS in the first place.