Officials say that hundreds of additional US troops are to be deployed to Afghanistan early next year, and that when that deployment is finished, the US may have roughly 16,00 troops in the nation, a substantial escalation since President Trump announced a buildup in August.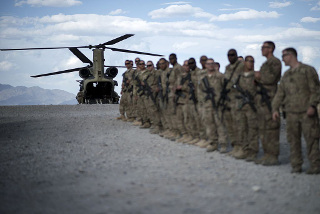 Exact figures are tough to come by, of course. It is believed the US has since about 3,800 troops to Afghanistan since the announced buildup, but Trump's interest in keeping troop levels secret has meant specifics are not released to the media, something that had always been the case in the war's first 15 years.
Even then, though, the official figures were often lies, as President Trump announced the escalation at a time when the Pentagon said there were 8,448 troops in Afghanistan, but officials later admitted they thought the real figure was closer to 11,000 or 12,000. At this point it's not wholly certain even the Pentagon keeps track of exact figures.
The new "hundreds more" troops are being described by officials as "trainers," though it's not clear that's whast they're actually doing, as officially almost all US troops deployed overseas are referred to as training forces on "advisory" missions.