The Syrian military has announced that troops backed by Shi'ite militias have successfully captured Abu Kamal, the ISIS-held city on the main border with Iraq, and the "last" stronghold of ISIS fighters in the country.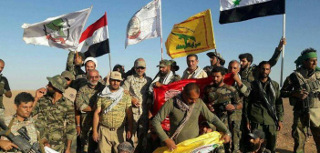 Syrian forces have been advancing toward the border along the Euphrates River for months, and finally hit the Iraqi border today with this victory. Iraqi forces captured their side of the border, al-Qaim just last week.
This marks the approximate end of ISIS as a territory-holding power in Iraq and Syria for the time being, though in practice ISIS still holds villages in a few places, and has substantial numbers of fighters spread around both countries to carry out insurgencies.
If anything, the end of ISIS as a de facto state may mean they grow all the more aggressive as an insurgency, as they will no longer have to commit so many forces to defending their borders or policing locals. ISIS was a massive group carrying out large-scale terror attacks even before they seized any territory, and their return to this has been anticipated for some time.