European Union Foreign Policy chief Federica Mogherini told a press conference today during her visit to Washington that she's received assurances from a number of US lawmakers that they intend to keep the US compliant with the P5+1 nuclear deal with Iran.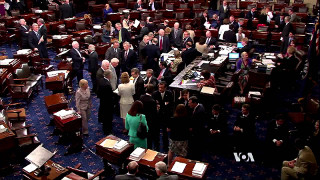 That's going to be a challenge, because the US has long been refusing to comply with certain sanctions relief they were required to offer under the deal. President Trump has decertified the deal, saying he wants to renegotiate.
Mogherini says that renegotiation is "not an option," something that all the other P5+1 nations have pointed out. Trump's decertification brings the matter up to a possible Congressional vote to withdraw from the pact.
But while the deal was very controversial within Congress when first signed, there's a lot less interest among them in voting to dishonor the deal now, especially since other nations have indicated that the pact will remain in place with or without the US.