Though Saudi Arabia accused Iran (and Lebanon for that matter) of being behind a Yemen missile strike over the weekend, they offered no evidence that this was the case. Indeed, while they claimed Iran provided the missile, they also confirmed the missile was a Burqan 2H, which is a Yemen-made design, and which Yemen's Defense Ministry confirmed firing themselves.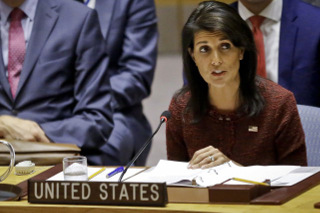 Still, one allegation from the Saudis was enough for US Ambassador Nikki Haley to come to the UN Tuesday to demand international action against Iran, claiming the missile "may be of Iranian origin" and that would be a violation of UN Security Council resolutions.
Saudi officials said the missile was a "war crime," though it didn't actually hit anythign, and all indications are it was fired by Yemen, a nation which Saudi Arabia is in the process of invading.
Saudi Arabia has been frustrated by how poorly the war in Yemen is going, and has been keen to pick fights with Iran. The Trump Administration has very much been supportive of that idea, and subsequently is backing the Saudi allegations against Iran, even though they are transparently untrue.