Visiting Tokyo, President Trump is making a big push to secure more weapons sales deals for top US arms-makers, something which has been a high priority for US presidents on foreign tours for years.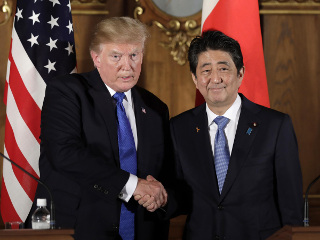 President Trump was very transparent about his interest in selling more arms to Japan, hyping the threat of North Korea and playing up the idea that the best way for Japan to defend itself would be to buy "lots of additional military equipment from the United States."
Trump hyped the notion that Japanese officials would be shooting North Korean missiles out of the sky with ease using US-made defensive missiles, which appears to dramatically oversell the capabilities of US interceptor missiles.
Indeed, anti-missile systems have already been present in Japan, and there've been no attempts to shoot down North Korean missiles shot over Japan, specifically because of concerns that the interception attempt would likely fail, and harm confidence in the costly interceptor systems.