In one of the first interviews of his high-profile tour of the Pacific to talk about the possibility of a war with North Korea, President Trump said he would "certainly be open" to meeting with North Korea's Kim Jong Un, saying he never thought sitting down with people would be a bad thing.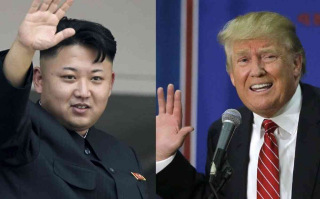 Trump added that while he was willing "we'll see where it goes, I think we're far too early" for such talks. These comments stand in stark contrast with Trump's other comments on North Korea, both in the lead up to the tour and in general over the past several months.
After all, the whole point of this tour was to explain that the world is "running out of time" on North Korea, and that doesn't really reconcile easily with Trump's claim that it's "far too early" for direct talks.
On top of that, while the US has been quietly engaged in direct talks with North Korea for months, President Trump has long mocked the idea of diplomacy with North Korea as a "waste of time."