A suicide car bombing hit the Khor Maksar District of the southern Yemeni port city of Aden, killing at least 15 people and wounding 20. ISIS claimed credit for the strike, and among the slain were at least five soldiers.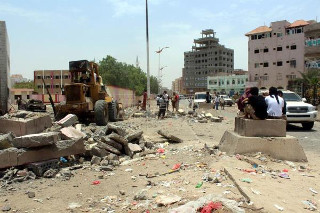 Details of the attack are still emerging, but witnesses reported heavy fighting erupted in the district shortly after the explosion. It was unclear who the combatants were in the fighting, or what casualties might've resulted from that fighting.
ISIS does have a presence in Yemen, but it is not as big as the al-Qaeda faction, which tends to be more active, particularly in southern Yemen. ISIS strikes, however, are not unheard of, though they are more common in the north.
Aden serves as the de facto capital city for the Saudi-backed Yemeni government, which controls territory roughly in what was formerly known as South Yemen. The Shi'ite Houthi movement still controls the north of the country.