In what Prime Minister Hayder Abadi termed "record time," Iraqi forces have totally captured the border town of al-Qaim from ISIS, and have troops on the road leading west, which is the main border crossing between Iraq and Syria.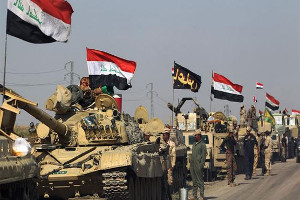 ISIS has held much of the Iraq-Syria border for years, and this crossing, leading to the Syrian city of Abu Kamal, is the most important. The Syrian side remains under ISIS control, though Syrian forces are quickly advancing toward it.
As with several other recent Iraqi offensives against ISIS, officials have presented al-Qaim as the "last" ISIS stronghold, presenting the capture of the town as the effective end of the conflict. Of course, no one expects the fight to really end even when the last ISIS territory is lost, as the group was long a land-less insurgency.
Control of official border crossings is likewise less of a concern for ISIS as they lose most of their territory, as insurgents can easily sneak back and forth anywhere along the border, and there will likely be less transporting of vehicles back and forth across borders now.