Though Syrian officials have made no indication that this is the case, top Iranian adviser Ali Akbar Velayati says that Syrian troops will soon be marching on the city of Raqqa to recover it from the Kurdish YPG.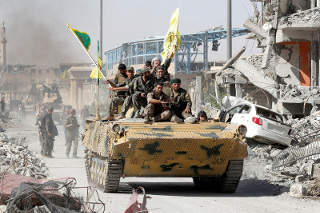 Raqqa was the long-time capital city of ISIS, but captured by US-backed Kurdish forces after over a year of operations in the area. Kurdish officials have indicated that they intend to keep control of the Arab city for now, and that it will be part of "federalized" Syria.
Velayati accused the US of trying to "divide" Syria by keeping their troops east of the Euphrates River. The US has helped the Kurds take broad swathes of Syrian landfrom ISIS outside of the Kurdish territory.
Syria and the Kurds probably are eventually looking at a fight over post-ISIS War borders, just as Iraq and Iraqi Kurdistan just had. It's unlikely, however, that it will be all that soon, as Syria likely will continue to attack ISIS and other Islamist groups as long as they can, and forestall what could be an ugly fight against the Kurds until the last minute.