Alaa al-Yasiri, the director of Iraq's state-owned oil marketing organization (SOMO) confirmed that the Iraqi central government's intentions are to retain full control over Kurdish oil exports in the future.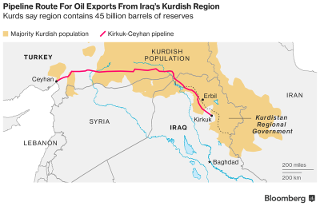 The last Iraqi offensives before the ceasefire saw Iraqi forces pushing into the area through which Kurdistan's pipeline crosses into Turkey. Iraq intends to control the measuring station and the border output for the pipeline.
The SOMO Director says Iraq is already in talks with Turkey on using the Ceyhan oil terminal to sell the Kurdish oil exports. SOMO would be responsible for such sales. It is not clear how much of the revenue the Kurds might receive.
That's likely to be a matter of ongoing dispute within Iraq, however. Iraq and the Kurdistan Regional Government (KRG) have long clashed about revenue sharing on oil exports, and if Iraq truly comes out of this with full control over the exports, it's likely the disputes will predominantly be resolved by force, since the Kurds have no alternative export route.