One of Serbia's longest-standing, closest relationships is with Russia, an alliance with its origins in the two nations' Eastern Orthodox religious ties. Serbia also isn't super cool with NATO, what with NATO heavily bombing them in recent wars.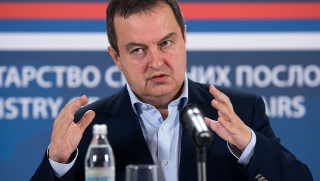 The US isn't okay with Serbia retaining good ties with Russia, however, and Deputy Assistant Secretary of State Hoyt Brian Yee warned Serbia "cannot sit in two chairs at the same time," and has to choose between aligning itself with the West, or the Russians.
That position is in keeping with the US eagerness to push Europe into a new Cold War, but Serbia isn't into that, with Foreign Minister Ivica Dacic rejecting the call, saying Serbia's real concern is that someone might "pull our own chair out from under us."
Dacic says that the Serbian government will continue to act in its own best interest, and that means retaining ties with the West, Russia, and the Chinese all at the same time. US officials probably won't be happy to hear that, but they can't really force Serbia to choose sides.