For the first time in 10 years, the Rafah border crossing between the Gaza Strip and Egypt is set to return to full operation, as the Palestinian unity agreement is holding and Hamas has handed over full control of the border crossings to the Palestinian Authority.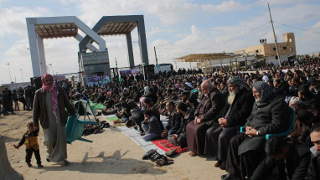 In addition to the Egypt crossing, the transfer also included the Erez and Kerem Shalom crossings into Israel. Palestinian officials say this will make travel easier, and goods cheaper by reducing Israeli limitations on access to the strip.
Egypt is the real story, however. While Egypt's junta long supported Israel's blockade of Hamas in the Gaza Strip, they likely won't be able to maintain any public pretense for doing so with a Palestinian Authority controlled crossing. This would severely limit Israel's ability to "blockade" Gaza in the future.
Hamas and Fatah signed the unity deal in Cairo last month, which intends to ultimately set the stage for the first free elections across Palestine in many years. Israel has been severely critical of the unity deal, saying they will never accept a unity government that includes Hamas.