On September 11, 2012, militants attacked the US Consulate in Benghazi, Libya, killing four Americans, including the US Ambassador Christopher Stevens. White House officials now say the US has captured a man suspected of involvement in the attack.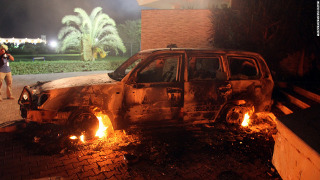 The man, identified as Mustafa al-Imam, had been captured at some point last week, and taken to a US Navy warship. He is to eventually be transferred to the US Justice Department to face charges.
Exactly what he did isn't at all clear, with officials only saying he "played a role" in the attack. Officials say they have video showing he was present during the attack, but it's not clear if the video shows him actually doing anything.
He is the second suspect detained by the US related to this attack. Ahmed Abu Khatallah, accused of being he "mastermind" of the attack, is already on trial facing 18 charges in the attack. Unlike Khatallah, there was never any public indication that the US sought to capture Imam between 2012 and today.