Visiting South Korea this weekend, Defense Secretary James Mattis said they he doesn't believe the United States would ever, under any circumstances, accept a nuclear North Korea, saying that the reclusive state which is constantly under threat of US attack should disarm.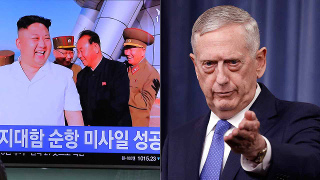 Mattis claimed that North Korea's attempts to improve its retaliatory capabilities are "counter-productive" and that North Korea is "reducing its security" by trying to deter oft-threatened US attacks.
North Korea has been very clear on the matter, saying their goal is to reach a point where their nuclear arsenal is capable enough that a preemptive US attack would be unthinkable. They've also downplayed the chances of disarming, noting that disarmament programs in Iraq and Libya led relatively quickly to an American attack.
With North Korea's goal being to avoid getting attacked by the US, it's hard to imagine they'd unilaterally disarm without guarantees that an American attack wouldn't follow. US officials, however, are so fond of making such threats that it's hard to imagine they'd ever willingly give up on the threats, meaning for now, that tense status quo likely will remain.