Top figures within the autonomous region of Catalonia are promising to act to resist the announced takeover of their territory by the Spanish central government, saying they have no intention of complying with Prime Minister Mariano Rajoy's announcement.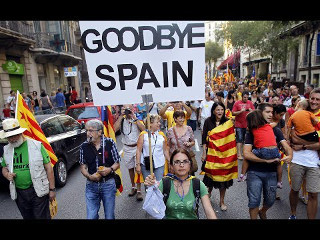 Catalan President Carles Puigdemont says that Rajoy's declaration is the worst attack on Catalonia since the era of Spain's military dictatorship, promising to consult with the regional parliament on an appropriate response.
Catalan Parliament Speaker Carme Forcadell concurred, accusing Rajoy of attempting a "coup" against Catalonia, adding the he "wants the parliament of Catalonia to stop being a parliament, and we will not allow this to happen."
Catalonia's public remains out in force in Barcelona in support of secession, having already voted overwhelmingly for it on the October 1 referendum. They see Spain's effort to revoke Catalan autonomy as proof they need to declare independence and get away from Spain as soon as possible.