US-backed Kurdish YPG forces in Syria say that following the battle for Raqqa, they are holding a number of "senior" foreign ISIS leaders, including several "emirs from all around the world."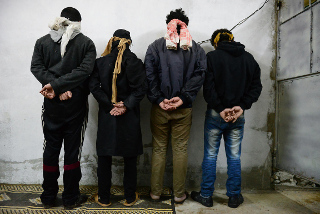 Officials say that they captured many of them in special operations, but that some of the emirs simply turned themselves in during the fall of the city. Raqqa had been ISIS capital city in recent years.
With the US refusing to take prisoners by and large in the ISIS war, many ISIS have chosen to surrender to Kurdish fighters. That leaves the future fate of these ISIS leaders very much uncertain, as it's not clear what plans the Kurds have made to handle POWs.
Kurdish officials say they have special prisons just for ISIS, and are interrogating them. Officials talked of eventually bringing them into a court, but this is going to require the establishment of courts to handle such cases.