The latest in a long line of disastrous airstrikes by Saudi warplanes across Yemen, officials reported an airstrike on Tuesday night in the northern Jawf Province, destroying a single civilian home, killing six civilians and critically wounded another.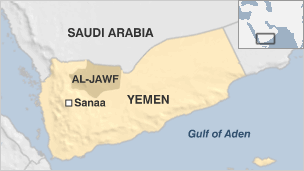 The civilians killed were an entire family. The slain included the parents and four of their daughters. The lone survivor, who was injured, was their only son. Saudi officials gave no indication why the house was destroyed.
Locals in the district, however, reported that the house was directly targeted twice, initially hit with airstrikes that destroyed the building, and then minutes later as rescue workers got close to the site. Officials say no rescue workers were injured, as they had yet to reach the wreckage.
Saudi Arabia has faced growing criticism for its massive civilian death toll in Yemen, and the US is under growing pressure to stop selling the Saudis arms, and to stop participating in the Yemen War. The House of Representatives has a War Powers Act challenge, which would compel the end of US involvement in the conflict, scheduled for November 2.