It took just 72 hours for the Iraqi military to reverse over three years of territorial gains by Iraqi Kurdistan, and hopes of independence from Iraq after the September 25 referendum seem less certain than ever.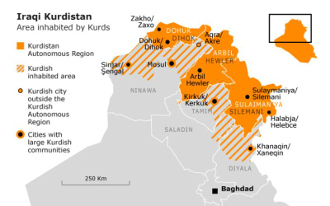 Over 92% of Kurds voted in favor of declaring independence, with a large turnout. Iraqi officials have rejected the vote, and have cut off Kurdish airports and border crossings. With mounting territory losses in Iraq's offensive, it's not clear what comes next.
So far, the Iraqi military hasn't moved into the recognized territory of the Kurdistan Regional Government (KRG), but with Prime Minister Hayder Abadi saying he considers the referendum "in the past," Iraq seems unwilling to even consider independence happening.
Kurdish President Massoud Barzani has yet to comment on the losses, but officials within the Kurdish region say they believe Barzani has lost a lot of political credibility due to the losses, and could quickly be forced to give up power outright.