US drone strikes had been extremely rare in Pakistan in recent months, but the past 48 hours may suggest a resurgence, with at least 31 people killed in strikes targeting Pakistan's tribal areas over that span.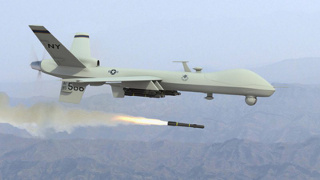 The Monday strike was targeted at Kurram Agency, destroying a house and killing at least 20 people within. None of the slain were identified, though Pakistani officials said the large number of people in the house suggested it was a "main" center for militants.
A pair of other strikes hit the border between Afghanistan and Pakistan, killing 11 more people. There are conflicting reports on whether the strikes targeted people inside Pakistan, or inside Afghanistan, hitting houses, which officials described as "hideouts."
The Afghan Taliban appeared to confirm that some of the victims were members of their force, saying the strikes targeted "mud-built houses" where Afghan Taliban were residing. They suggested only 18 were killed however, suggesting some civilians were likely killed as well.
Last 5 posts by Jason Ditz