Locals are reporting heavy airstrikes carried out by Russian and Syrian warplanes in the eastern Deir Ezzor Province have left at least 79 civilians dead and an unknown number of others wounded over the last 48 hours.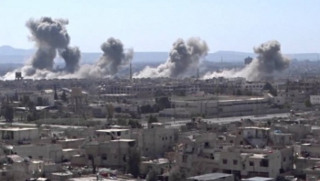 The strikes killed 50 in the al-Asharah and Hajin Districts, along the Euphrates River. Other attacks were reported along the river, with Russia saying they'd killed 120 ISIS fighters and ISIS allies in the province in a pair of attacks.
The attacks that killed combatants were centered around al-Mayadin, where 80 were killed, and the border town of al-Bukamal, where 40 were killed. The Bukamal incidents were extremely close to Hajin District, so it's not totally clear if there isn't some overlap.
This has been a recurring problem in anti-ISIS pushes by all factions, as the reliance on heavy air support to displace ISIS from populated areas tends to boil down to pounding residential areas and killing large numbers of innocent bystanders.