Airstrikes pounded a marketplace in Syria's Idlib Province, in the city of Maarat al-Numaan, causing major damage and killing 11 civilians, including two children. Over 20 others were reported wounded in the incident.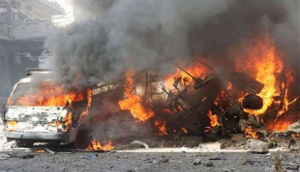 Details of what happened are still not totally clear, as reports initially speculated that it was either the Syrian military or Russian warplanes responsible, with the Syrian Observatory for Human Rights later saying it was "probably" the Syrian government.
Maarat al-Numaan is a key border town between Idlib and government-controlled territory, and is under the control of al-Qaeda's Nusra Front and their coalition partners. It does not appear, however, that any combatants were at the market at the time.
Warplanes have been targeting Nusra Front in recent weeks on a heavy scale, after reports Nusra sustained major losses in a failed offensive against Hama Province. The hope seems to be, amid efforts to bring other Idlib Province groups into peace talks, Nusra can be sidelined, since they've ruled out participating in any talks.