The International Limited Observers Mission (ILOM) for Sunday's Catalonia vote has issued a statement today praising the Catalan organizers for being able to carry out such a referendum in the face of a violent crackdown by Spain.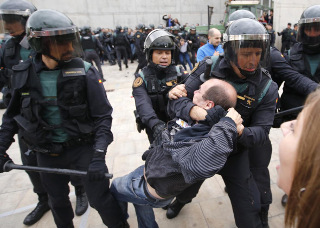 ILOM "strongly condemned" Spain for its violence against voters, which injured over 800 people, saying it had no place in an established democracy. They added that this raises concerns about fundamental freedom of expression within Spain.
But all told, ILOM appeared quite impressed with the referendum itself, despite adverse conditions, saying that the questions about transparency and access to polls only came about because of Spain's crackdowns and threats, and that everyone performed "to the best of their abilities."
Amnesty International also issued a statement criticizing Spanish police for "excessive and unnecessary use of force," and the use of "disproportionate" force against the voting public. Amnesty officials added that Spain needs to investigate the incidents and hold those responsible accountable, ensuring that this never happens again.