Speaking at a conference of the ruling Likud Party, Israeli Prime Minister Benjamin Netanyahu has ruled out accepting the Palestinian unity government, should one ultimately come into place as a result of ongoing negotiations among Palestinian factions.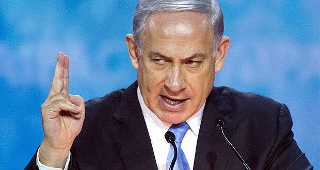 Netanyahu insisted that any Palestinian unity would necessarily come at the expense of Israel's existence, and that he would not allow this. Other top Israeli officials also condemned the reconciliation talks, suggesting they amounted to the Abbas government "cozying up to a murderous terror organization."
The Palestinian cabinet met in the Gaza Strip today for the first time since 2014. This reconciliation appears to be even further along than the 2014 effort, with Hamas willingly disbanding the Gaza government with an eye toward bringing it under control of a unity government, pending an election.
Netanyahu's position is largely unchanged from the 2014 effort, during which he similarly was furious about the effort, and insisting that such reconciliation would be a threat to peace talks.
The position is something of a catch 22 for the Palestinians, as Israeli officials dismiss the idea of Palestinian statehood because the Palestinians aren't unified, but when they get unified, Israel sees that too as proof the Palestinians aren't serious about peace.