The UN nuclear watchdog, the International Atomic Energy Agency (IAEA), is responsible for verification of the P5+1 nuclear deal with Iran. This means they offer monthly assessments, all of which have affirmed Iran is in total compliance with its requirements under the deal.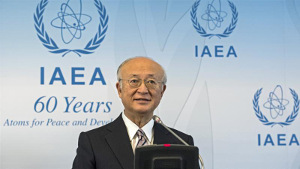 Monthly reminders of that fact are increasingly seen as insufficient, however, with the US government publicly attacking the pact and making wild accusations of unspecific Iranian violations. Now, IAEA officials feel obliged to publicly defend the concept of a deal, the nature of this specific deal, and Iran's compliance all at once.
IAEA chief Amano Yukiya today defended the deal's verification program as the "most robust" ever, noting that the IAEA has dramatically increased its number of inspections in Iran since the deal was signed, calling the pact a "clear and significant gain."
The P5+1 nuclear deal with Iran limits the size of Iran's civilian nuclear program, nominally to prevent them developing a civilian capacity which could be translated into a military program. In return, Iran is supposed to get substantial sanctions relief.
But the US has largely withheld sanctions relief, complaining about Iran in vague, general terms, and with President Trump condemning the deal in general. Amano, however, has noted Iran is complying with all terms of the deal, and that fact really needs to be considered an important one before any US effort to "rip up" the agreement outright.