One day after issuing a presidential decree forbidding his country's participation in NATO wargames on constitutional grounds, Moldovan President Igor Dodon has announced he intends to punish the soldiers after the Defense Ministry revealed they left to join the wargames anyhow.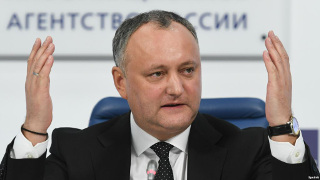 The Moldovan constitution requires them to remain neutral, and Dodon said that precluded involvement in the wargames in Ukraine. Despite the ban, NATO invited 57 troops, and that's how many showed up.
Dodon's first step is figuring out who those 57 guys are, and he's ordered checks on all of the nation's Army units to try to figure out who's missing.
It appears this marks a split within the Moldovan cabinet, as the Defense Ministry confirmed the troops left, and didn't appear to be upset at all about it. They also presumably would have access to a list of who left, but are making the president go through the problem of investigating it.