US officials have been griping about poor relations with Russia, but as Secretary of State Rex Tillerson talked about improving ties with Russia's Foreign Ministry, the US also took another shot at Russia, ordering the closure of its eldest US consulate, the one in San Francisco, along with two other annexes in the US.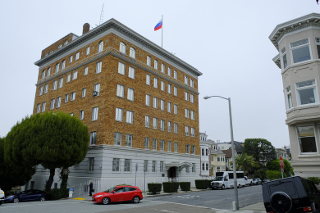 Officials say they aren't expelling any Russian diplomats, but that the move is retaliation for Russia recently expelling US diplomats, ignoring that the expulsions were themselves retaliation for the US seizing a pair of vacation properties from Russia.
Tit-for-tat measures have a nasty way of snowballing, and while US officials see this as an effort to even things up, arguing that Russia and the US now have the exact same number of consulates, it's likely to provoke further action from Russian officials, who expressed "regret" at the US move.
Russia moved into the consulate in 1972, but it was the third site in San Francisco since 1933, when the first consulate was opened. The consulate also made headlines during the December US expulsions of Russian consular employees, as the list included the consulate's head chef, and came just days before the New Years Eve party.
The other two facilities are described as a consular annex in New York City, and a chancery annex in Washington D.C.  There is much less detail known about these sites, but the fact the US is giving Russia 72 hours to evacuate them is likely to add further resentment to the move.