The soaring civilian death toll from US airstrikes against the ISIS capital city of Raqqa has gotten so bad that yesterday, it actually fueled a statement from the UN requesting the US pause their airstrikes to allow more civilians to flee the city.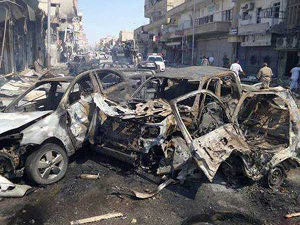 US officials are rejecting this call, however, with SPecial Envoy Brett McGurk insisting that the war against ISIS is going very well, and that the "number one thing that we have to do to" to help civilians in Raqqa is continue the war and defeat ISIS outright.
McGurk went on to say that President Trump is "focused like a laser destroying ISIS," and that the war is going well, but that they will take the UN call to pause the strikes "under advisement." It's clear, however, they aren't taking the call seriously.
That's unsurprising, as the Pentagon has gone out of their way to downplay the huge civilian toll of their ISIS air war, and appears to be confident that they can continue to mislead everyone about the number of people actually being killed in their strikes long enough to defeat ISIS outright.