While there has been a concerted effort from some members of the Trump Administration to downplay the risk of an imminent nuclear war with North Korea, the possibility of such a conflict is still palpable, with White House officials openly talking about launch a "preventative war" to resolve the situation.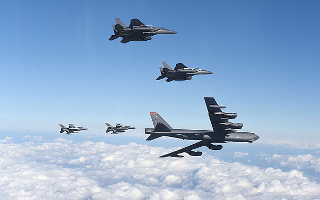 National Security Adviser H.R. McMaster is seen as one of the leading advocates of this idea, which seeks to avoid the question of how much of a threat North Korea will pose in the future by just attacking them outright now, consequences be damned.
But this position also fits neatly into President Trump's own "fire and fury" narrative, and Trump has repeatedly given the impression in recent weeks that he considers attacking North Korea out of the blue a viable option, albeit one of many that are under consideration.
South Korea's President Moon Jae-in has tried to reject this idea, insisting South Korea has an inherent right to "veto" any US war against North Korea. Yet Defense Secretary James Mattis and other US officials have consistently dodged that question since Moon made the claim, and are mostly couching the war as about the US, as opposed to defending South Korea.
This casts a big shadow over the new US military exercises in South Korea this week, with North Korea openly warning that they are watching for any reckless escalation during the operation, and that they believe the war could quickly go nuclear if the exercise turned into "actual fighting."
Such a US sneak attack under the guise of military drills would likely be condemned region-wide, but the even bigger problem is that, no matter how the US decides to start this war, doing so will have massive fallout for the region, and particularly for South Korea.