A Key advisor of Syrian President Bashar al-Assad, Bouthaina Shaaban today declared that the Syrian War is effectively over, saying that the Damascus International Fair marks the end of the war and the beginning of reconstruction.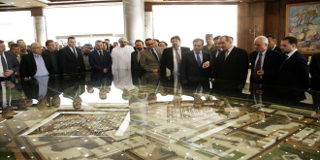 The Damascus International Fair had been on hold for five years during the war, but kicked off earlier this week, with companies from around the world participating in the trade fair. The largest participants are expected to be from Russia and China.
While claiming this to mark the end of the war nationwide is obviously premature, it does mark a turning point in the situation around the capital city, as it's unthinkable such an event could've been held in recent years, and this underscores increased security in that area.
Still, large chunks of the country remain outside of the Assad government's control, and Shaaban vowed to see Syria's Army confront illegitimate foreign forces present in the country, singling out US and Turkish forces in particular as objectionable presences.