Faced with mounting evidence of war crimes committed by Iraqi troops in the course of the Mosul invasion, as well as against "suspects" after victory was declared, Iraqi Prime Minister Hayder Abadi today admitted that there were "abuses" committed by security forces in the city.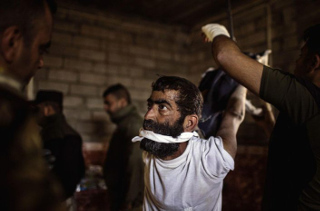 Abadi's government had announced an investigation back in May related to images released in the media showing Iraqi special forces torturing and summarily executing civilians within Mosul. The investigation has concluded, according to Abadi.
Now the prime minister is promising prosecutions, though this is likely to be extremely difficult in practice, as the abuses were conducted by a US-backed special forces which sustained high casualties and is seen as struggling to remain combat ready.
Iraq's Shi'ite government has tended to look the other way during similar war crimes committed by Shi'ite militias and the military in other Sunni cities, but seems to be facing growing pressure to prove that he intends to do something. Actually punishing anyone, however, is likely to be unpopular both within the military command and politically, as such activities have become routine against Sunni detainees during the ISIS war.