Providing the most specific details yet on Israel's ongoing series of military strikes inside war-torn Syria, Air Force Chief Maj. Gen. Amir Eshel revealed today that Israel has carried out nearly 100 distinct military actions over the last five years specifically related to what they believed were Hezbollah-bound arms convoys.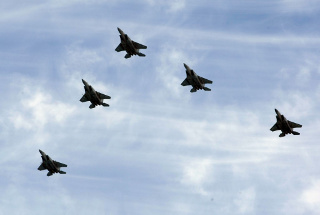 This comes less than a month after Prime Minister Benjamin Netanyahu was caught on an open microphone admitting to "dozens" of strikes in Syria, though obviously this is far greater, because many Israel strikes on Syria clearly were not Hezbollah related.
Indeed, recently reported Israeli strikes in Syria have almost always been the result of stray artillery shells landing in empty territory inside the Israeli-occupied Golan Heights, and Israel responding by attacking Syrian military bases in the area.
Maj. Gen. Eshel appeared to offer a hint at this discrepancy, bragging that many of Israel's strikes had managed to "go under the radar," and while he insisted Israel acts "irrespective of the risks," he also appeared quite keen on Israel carrying out such attacks without getting into an overt war over them.