Over the weekend, Taliban forces attacked the remote northern Afghan village of Mirza Olang. At least 50 civilians were killed, mostly Shi'ites, and another 150 families are still being held hostage by the militants, again mostly Shi'ites. Earlier that week, a pair of bombers, apparently linked to ISIS, attacked a Shi'ite mosque in the city of Herat, killing at least 50 people and wounding scores of others.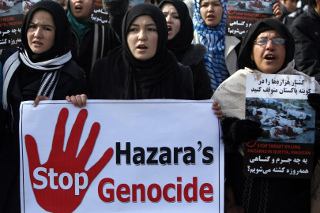 It's generally dangerous to be a member of Afghanistan's Shi'ite minority, known as Hazaras, but these recent attacks suggest it's getting even worse. The attack on Mirza Olang, in particular, raises concern that the attacks are the start of a surge in sectarianism.
While bombing a Shi'ite mosque in a big, religiously mixed city is common enough, even if Herat was a particularly deadly incident, the Mirza Olang attack suggested that the Taliban went out of their way to attack a remote, overwhelmingly Shi'ite village with little value, just to hit Shi'ites.
That's a concern, because it's different. Throughout the war, the Shi'ites have been a favored target, but Shi'ites living in remote rural areas had generally been safe from such attacks. If that becomes a trend, the Afghan military's inability to provide security is going to get even more pronounced.