New reports out of the ISIS capital city of Raqqa say US airstrikes hit a number of residential districts in the city over the course of Saturday, killing at least 43 civilians and wounding an unknown, but substantial number of others.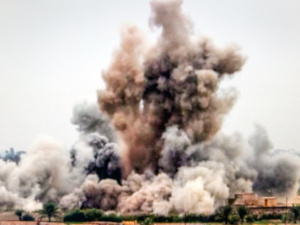 There was no obvious specific target for the strikes, though the US has been generally targeting ISIS forces within the city to try to back the Kurdish-led invasion. The casualties in this case, however, appear to be overwhelmingly civilians.
Dina Asa'ad, a Raqqa-based Red Crescent official, was also quoted saying that US coalition airstrikes had targeted the National Hospital in Raqqa just days ago, saying the bombs damaged the electricity generator and forced the closure of damaged wards.
Though the Syrian government had broadly been fine with the Kurdish YPG invading ISIS territory, they have complained to the UN Security Council about the US airstrikes, saying they are excessively targeting civilians and basic infrastructure