The Lebanese military is rejecting media reports that they are going to coordinate with the Syrian military in an upcoming offensive against ISIS in the Bekka Valley, saying they have no intention of directly coordinating with anyone, and that they're confident they can beat ISIS without international support.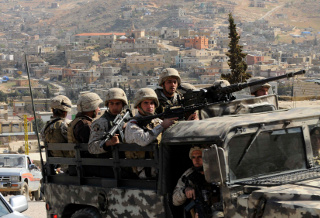 This comment ruling out coordination is likely intended to please the Trump Administration, which has been promising the Lebanese military substantial aid to fight against ISIS, but would clearly be averse to doing so in coordination with the Syrian military.
As a practical matter, though, it really doesn't matter. Hezbollah has already gone on record as saying they'll be substantially involved in the anti-ISIS push, and Hezbollah is always directly coordinating with the Syrian military, so they could serve as intermediaries to the extent that's needed.
Hezbollah led the recent offensive around Arsal against al-Qaeda targets, and while they're looking to move north against ISIS as well, it's believed that the Lebanese military will at least publicly take the lead in this next push.