Gen. John Nicholson Jr. is the 17th commander of the US occupation of Afghanistan since the 2001 invasion. It's not exactly a plum job, as the war is going poorly, and he appears to be falling out of favor quickly with President Trump, after having inherited the position back in March of last year.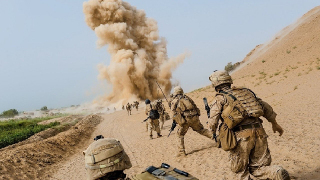 Officials are now revealing details of a tense, multi-hour meeting on July 19, during which President Trump complained that the US is losing the war in Afghanistan, and expressed frustration with his advisers, who have been urging an escalation in the protracted war to try to slow the rate of loss.
Trump has been resistant to the escalation calls, skeptical that they'll do anything to change the tide of the war, but also appears to be increasingly frustrated with Gen. Nicholson in particular, repeatedly suggesting during the meeting that Nicholson should be fired "because he is not winning" the conflict.
That's about par for the course for commanders in Afghanistan, as more than a few have been relieved of command because the war was going more poorly than the president at the time was satisfied with. Trump's suggestions of sacking him are a bit more frank than the public comments ahead of the dismissal of past commanders, but Nicholson's slightly over one year time as commander is roughly the norm.
Whether this is just the latest shuffling of the leadership to give the illusion of forward motion remains to be seen, put some reports have suggested that some in the White House are pushing for an outright withdrawal from Afghanistan instead of continuing to drag out the failed conflict.