Seemingly every ICBM test these days is followed by days of panic about the threat it poses, and US officials railing at how provocative it was. That's going to be different Wednesday, when the US Air Force is the one carrying out the ICBM test.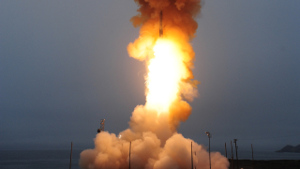 The Air Force says they will be firing a Minuteman 3 ICBM missile off the coast of California on Wednesday morning, the fourth such test of this type of ICBM this year. The missiles will cross the Pacific, aimed at Kwajalein Atoll, some 6,800 km away.
The Minuteman 3 entered service in 1970, and has been repeatedly tested since then. The Minuteman 3 is the only land-based ICBM that remains in service in the US military. The test launch will have no warhead, but  rather test the re-entry vehicle.
The US has reacted with fury on such tests by other countries, and suggested Iran is in violation of international law, even though their missiles are neither ICBM-range, nor capable of carrying nuclear warheads. The US missiles, of course, are ICBMs, and nuclear-capable.
Last 5 posts by Jason Ditz