On Friday, Russia imposed retaliatory sanctions against the US, including ordering them to cap their staff at the US Embassy in Moscow to 455 by September 1. At the time, this was estimated to be around 100 people having to leave.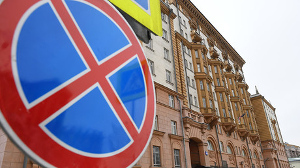 Russian President Vladimir Putin, however, told Russia-24 television that well in excess of a thousand people were working at the embassy, and that the new cap would mean some 755 US diplomats are going to have to leave the country to meet this cap.
The retaliatory move came a day after the Senate passed new sanctions against Russia, but was primarily retaliation against a move back in December, in which then-President Obama expelled Russian diplomats from the US and seized a pair of diplomatic compounds.
Russia has complained in recent weeks that there are "too many America spies" in Moscow. This was seen as a response to this concern, because like most countries, the US uses diplomatic credentials as a way to give its spies legal immunity.