The Saudi naval blockade of Yemen, in place since the start of their war in the country, continues to have a serious negative impact on aid reaching the coastal country, with officials confirming that last week, four fuel tankers were denied access to the Yemeni port of Hodeidah.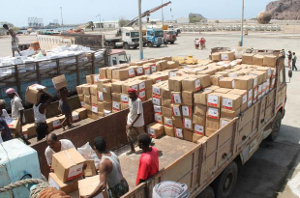 The four ships had enough fuel to provide over 10% of Yemen's power needs, and the timing of their denial couldn't be worse, with power plants around the country running on fumes, and water filtration systems shutting down as a cholera outbreak begins to grow precipitously.
With concerns that the cholera epidemic could hit hundreds of thousands of people, UN officials say that the barring of the fuel imports risks making the situation even deadlier, stopped water pumps and shutting down electricity generators in hospitals.
That's just the tip of the iceberg for the blockade, which is worsening a famine already impacting some 7 million Yemenis, and keeping vital medicine out of the nation's northern half, which is controlled by the Shi'ites that the blockading Saudis are fighting.
While there's been no official explanation for the ships being barred, it's almost certainly because they were headed to Hodeidah, the last Shi'ite-controlled port. While the Saudis have allowed at least some aid to reach the cities they hold in the south, northern Yemen has been kept receiving bare minimum, or less, or needed supplies, raising growing human rights complaints that the blockade is using food and medicine as weapons of war.