As Russia and China continue wargames in the Baltic Sea, entitled "Sea Cooperation 2017," there's a lot of tension in the region, enough so that Russian Vice Admiral Alexander Fedotenkov was quick to insist the games are no threat to anyone.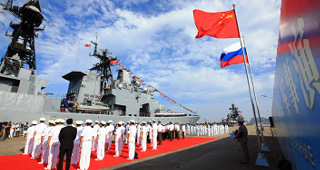 The joint fleet departed from a port in the Russian exclave of Kaliningrad, near Poland, and has been engaging in a series of operations, mostly centering on rescue operations and freeing captured ships from pirates, but also including some practice firing on target ships and planes.
Wargames, especially when they coincide with increased tensions, are often seen as a bellicose move by other parties in the region, though in this case the exercise was planned a year in advance, after a nearly identical one the previous year.
This is just part of the annual naval exercise, as a second part of the exercise will be held in the Sea of Japan in September, near the Russian Pacific Coast.
Last 5 posts by Jason Ditz