Speaking today during a broadcast of a cabinet meeting, Iranian President Hassan Rouhani warned that the current US bill aiming to impose new sanctions against them for their conventional missile program would be met with a "reciprocal" response.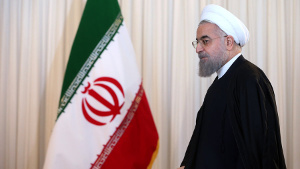 Rouhani wasn't specific about details of the response, but other Iranian officials presented the sanctions as a US violation of the P5+1 nuclear deal, and warned it threatened the successful implementation of the pact.
The US was obliged to lift a number of nuclear-related sanctions on Iran, and the recent moves by Trump and Congress aim to reimpose a lot of those sanctions under the pretext of missile tests. Iran has repeatedly sought help from mediators related to the US non-compliance.
President Trump used this latest issue as an opportunity to threaten Iran in more general terms, insisting if they don't "conform" the his expectations "it's going to be big, big problems for them. That I can tell you, believe me."
Trump also expressed doubts he'd recertify Iran's compliance in 90 days. Even though there's no doubt Iran is complying with the P5+1 deal, Trump was said to be reluctant to certify it this last time, because he's seeking a confrontation with Iran, and objects to the deal in general.
Last 5 posts by Jason Ditz