Speaking today with Lebanese Prime Minister Saad al-Hariri, President Trump praised ongoing efforts in Lebanon for the nation to "guard its borders" and prevent infiltration by ISIS and other militant groups, pledging unspecified amounts of US aid to help with that effort.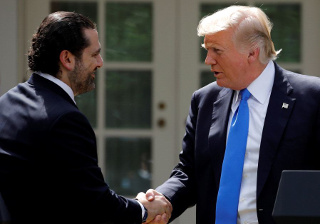 Trump presented the support as necessary to ensure that the Lebanese Army "is the only defender Lebanon needs," clearly suggesting supplanting Hezbollah as the nation's primary force defending from actual invasions.
In practice, however, Hezbollah has been a diving force in the recent border operations that pleased him so, reflecting the group's hostility toward ISIS and al-Qaeda's Nusra Front, and that is likely to continue for the foreseeable future, irrespective of US aid to the Lebanese military.
The Lebanese Armed Forces have struggled for years with limiting Syrian rebel incursions along the border, though they've struggled to do this in the case of bigger raids, and have had to seek the support of Hezbollah to handle bigger incidents.