Faced with soaring unrest related to the matter, Israel's Security Cabinet has voted Tuesday morning to remove the metal detectors they set up around the outskirts of the al-Aqsa Mosque, one of the most important holy sites in Islam.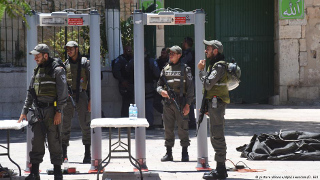 The metal detectors were wildly unpopular, with Palestinian officials accusing Israel of using security problems as a pretext to establish greater control over the holy site. The detectors fueled massive Friday protests, and warnings of more to come.
Israeli officials don't want to be seen backing down on the matter, and have announced that they are allocating around $28 million to replace the detectors with undisclosed "advanced technology." Signs are the money will largely go to an increased police presence in the area.
This will presumably reduce tensions significantly in the near-term, though the status of the mosque and its place within Israeli occupied territory will continue to be a sore spot in Israeli-Palestinian relations going forward.