The Russia sanctions bill moving through the House and Senate,and which appears to have growing bipartisan support after tacking on sanctions against both Iran and North Korea, has long been opposed by the White House, which has complained that the limitations on the president easing sanctions in the future was an unacceptable curb on his powers.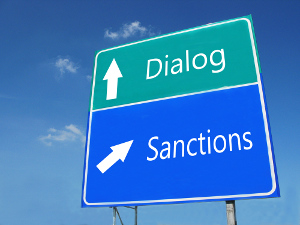 The White House, however, is signaling that they are softening on the bill more than a little, with newly minted Press Secretary Sarah Huckabee-Sanders saying they "support where the legislation is now" and like it a lot better than the initial text.
At the same time, Communications Director Anthony Scaramucci says that President Trump has not yet made up his mind on whether or not he's going to sign the legislation. The signs are that he's fine with all the next sanctions, but still reticent about the limits on easing sanctions in the future.
The idea of limiting presidents' ability to ease sanctions was initially a Republican initiative to try to derail the Iran nuclear deal, but has become a cause celebre this year for Democrats, who've accused President Trump of plotting to ease Russian sanctions, despite Trump having made no efforts to do so in the last six months.
And while tacking on more sanctions is relatively non-controversial politically within the US, the same cannot be said internationally. European officials have been particularly concerned, given their energy dependence on Russia, that new US sanctions targeting Russia's energy sector are going to ultimately boil down to sanctions on many EU companies, particularly German companies heavily invested in energy imports.