The search continues for civilians still unaccounted for after 70 villagers were kidnapped in Afghanistan's southern Kandahar Province. Details on the kidnapping are still scant,and officials haven't identified who did it beyond "gunmen."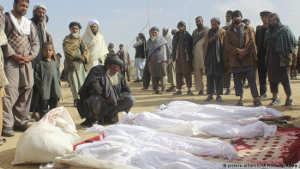 The village targeted was ethnic Pashtun, and of the 70 kidnapped villagers seven appear to have been executed outside of the village. 30 others have been reported released, according to provincial officials, while the fate of the rest remains unknown.
Kandahar Province is a stronghold for Taliban forces, and the village targeted is on the main highway.It would be unusual for the Taliban to target a random village for mass kidnapping, particularly a Pashtun village, and even more odd for them not to make a public statement if they had. The Taliban issued a statement two days after the kidnapping denying involvement.
And while there is no shortage of militant factions in and around Afghanistan that might try to kidnap and ransom people, so far there is no report of any ransom demand at all, making this incident unusual, even for war-torn Afghanistan.