Underscoring that Friday's ceasefire was a de facto military victory for them, al-Qaeda's Nusra Front now totally controls the Idlib Province's capital city of Idlib, following the other ceasefire party, Ahrar al-Sham withdrawing over the weekend.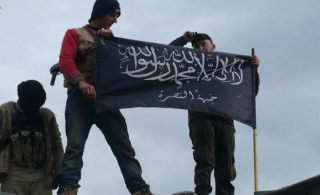 The two sides had spent over a week fighting around the province, ending with Nusra having a large contingent of Ahrar al-Sham surrounded at the border crossing into Turkey. This was followed by a ceasefire that aimed to remove all combatants from the crossing itself.
Still, it was no real secret that the deal came simply to prevent a bloodbath, and Ahrar al-Sham fairly quickly had packed everyone up on their vehicles and headed further south, into territory in Idlib Province that they still control.
Ahrar al-Sham and Nusra's umbrella group, Tahrir al-Sham, are two of the biggest jihadist alliances within Idlib, and the province is packed with fighters after months of evacuation deals and military losses had many falling back into the area. Nusra appears to be in the best position of the bunch, however, and continually solidifying their control at the expense of the others.
At the same time, a car bomb reportedly killed 11 fighting in Idlib today, according to the Syrian Observatory for Human Rights, reflecting that the rivalries can continue to fuel violence at any moment.