The civilian death toll in Afghanistan, some 16 years into the US-led invasion and occupation, continues to rise precipitously, with the most recent figures out of the United Nations showing 1,662 civilians killed in the first half of 2017, the highest civilian toll of the entire war.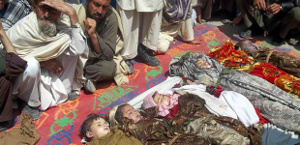 Officials had expressed hope civilian deaths had more or less leveled off, when the first half of 2016, the previous record, gave way to a roughly identical figure in the second half. Increased airstrikes and some major suicide bombings drove another increase, however.
The civilian toll was particularly grave for women and children, with casualties among women up 23% and 9% among children. This was exemplified by an early February US airstrike in Sangn District, which killed 26 civilians.
UN officials did however say that overall, the US had killed fewer civilians this year than in the same period of 2016, likely reflective of the change in leadership of the Afghan War, as air raids usually drop temporarily when a new general assumes control of the conflict.