In a particularly embarrassing case of US allies torturing detainees, a video leaked to the Turkish media shows fighters in Kurdish YPG uniforms torturing at least two captive Arabs during interrogation. The video is said to have been from the end of May, and in Mansura District, west of Raqqa.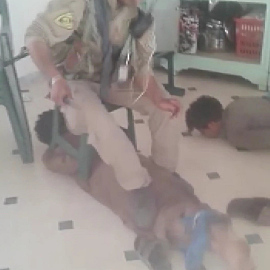 The two shows the YPG forces kicking and stomping on the prisoners, demanding information about the location of ISIS fighters, as one of the detainees screams that he doesn't know anything about it. Kurdish officials confirmed the authenticity of the video.
Exactly what that leads to is unclear, as the Kurdish "Self-Protection" body described the act as the torture of "one of the ISIS mercenaries," but offered no detail of how they decided that's what the detainees were, let alone why they only mentioned one torture when the video clearly shows two people getting stomped.
The Kurdish PYD, the political wing of the YPG, suggested it was an "individual act" and that they would be held responsible if they are identified. The US says they "don't condone" the actions in the video, and suggested an investigation might take place through the Pentagon's legal branch.