Secretary of State Rex Tillerson is in Kuwait today, discussing a planned tour of the Gulf Arab states centering on an attempt to help mediate the ongoing Qatar dispute, which US officials are increasingly concerned is stalemated.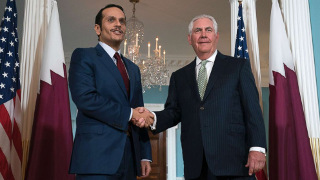 Qatar, a key US ally, is being blockaded by four other key allies, Saudi Arabia, the United Arab Emirates, Bahrain, and Egypt. The US has largely avoided direct involvement so far, just expressing hope a deal would be reached. With no sign of that happening, US officials now fear it could last months, and impact US wars being fought out of Qatar.
US and British officials are being increasingly public with their impatience toward the situation, calling for a negotiated deal, and soon. Kuwait has been trying to mediate the dispute so far, and that's why it's Tillerson's first stop, looking to get a head's up on the current situation.
It's not clear there's a deal to be made, however, with the demands placed on Qatar broad and onerous, and Qatar having repeatedly ruled them out. At the same time, Saudi Arabia insists they're "non-negotiable," so there is no middle ground to be had between the two sides. Given how well Qatar has transitioned its trade from Saudi Arabia to Turkey, it's not clear that financial relations are something either side needs to salvage anymore.