The ceasefire in southwestern Syria brokered by the US and Russia last week, continues to hold after being brought into force yesterday at noon. This is mostly being celebrated by those involved in Syria's endless war.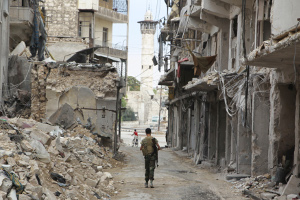 This is particularly true with Iran's Foreign Ministry, which issued a statement praising the ceasefire, and saying that it should be expanded across the entire country, encompassing the de-escalation plan that is part of the peace talks in Astana, Kazakhstan.
The Astana deals have struggled, in no small part because the US hasn't endorsed them, and subsequently most of the rebellion, apart from a handful of Turkish-backed rebel factions, have also spurned them. Iran's comments are intended then to encourage Russia to bring the US into the fold on the talks.
That's not going to sit well with the UN, however, as special envoy Staffan Mistura actually appeared critical of the ceasefire deal, warning it needs to be limited and temporary, and insisting that a protracted period without fighting might lead to the "partition" of Syria.